Good Evening Everyone, how has your Wednesday been going so far? My week hasn't gotten any better - I'm still without a phone, so this post is going to be without pictures, my apologies. What a crappy week - I wish one day out of the week had 24 hours in it and you magically had the energy to clean and organize your whole house...that would be amazing! If only...I finished the best book ever just now, seriously y'all, go get
Paris Letters
, you will thank me. I am trying to post more regularly, so I couldn't miss out on Weight Loss Wednesday - since I don't have pictures, you're just going to have to take my word for it :) Today I am going to link up with
Ms. Erin
and her lovely co-hostesses for:
- It has been quite some time since I linked up with this particular link up and Ive decided the time has come - weekly accountability worked for me before, and it's going to work for me now, by golly - did I just say by golly? :) Since my phone is out of commission currently (tomorrow can NOT come fast enough) you will just have to take my word for it - 163.0 - down 1.4 since Monday. Tomorrow I plan on running, and every day is a new chance to make good decisions. I think I'm going to slowly start cutting cheese out of my diet again, it's like my drug of choice. So, there are the ugly details :)
Next up, I am linking up with
Ms. Jenn
from Peas and Crayons for: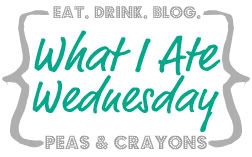 Since, I cant take pics - again you're going to have to take my word for it:
For Breakfast, I had two Cabot cheese squares from Costco - so delish! I'll miss these when I go cheese-free!
For Lunch, I had Panera - I love their choose two - half Greek salad and half tomato and mozzarella panini - yum!
For Dinner, Hubby made me ground turkey pasta with Trader Joe's Pasta Sauce and I had a small side salad with Greek Vinaigrette.
- I have no idea what the calories were for today. Here's the thing, I keep going back and forth between wanting to count and not wanting to count. My phone is out and I cant use MFP at work, so I haven't been tracking all week. I kind of like the freedom - but I know I'm most likely eating too many calories. How do you reign it in without restricting? It's like the golden tightrope we all want to walk on. If I had the answer, I could solve all of life's secrets. Well, I'm thinking about going completely clean again with food, we shall see. I start Cross Fit on Monday and I know I will make better decisions with the more exercise I am doing, funny how that works, right? (Sarcasm Font) I just don't want to get too obsessive - I think part of the reason why Ive gained ten pounds since last September is because I was WAYYY too restrictive. I measured out my tomatoes for Gosh Sakes...It just doesn't have to be so hard, right? So, I'm searching for balance...how can I eat healthily without overeating and without counting every single calorie. If you have the magic answer, please share ;)
OK folks, that's all for today. See you Friday :) or tomorrow - I'm kind of a roll!