Good Evening Everyone, how is your Wednesday going so far? Mine is ok - I turned in our claims report for our household goods - 16 items were delivered to us broken...Ive calmed down somewhat about my personal items being damaged (my dryer was delivered badly damaged, it still works though, thank goodness) - and today I turned in our claim, fingers crossed!! I got a work out in and then went to the Commissary for groceries. I was in high spirits until 30 minutes ago when I realized I bombed an assignment I turned in last night that I truly thought I did well on. Im really upset about it. I wont go into details, but it dropped my GPA in the class by 12 points and I dont score any lower than A's, EVER, so Im pretty upset. I emailed my professor, so we shall see.
Moving on, today is Wednesday, so Im going to link up with my two favorite link ups for the week. First up, I am linking up with
Ms. Jenn
from Peas and Crayons for:
- Today is the first day I have tracked again on My Fitness Pal, MFP, in quite some time. I was trying out Weight Watchers there for a hot minute, and I just cant get into it - the app is more difficult to navigate, in my opinion, and I love that I have so many of my go-to diet foods already pre-loaded onto MFP. I will continue to use WW for recipes until the end of my three month period, but I now realize that the answer to my plateau/gain is not switching things up, but to go back to the roots, go back to what works and take it one minute at a time. Im unhappy with my extra fluffiness right now, and look forward to having a good weight loss week.
- So, as I mentioned above, I went to the Commissary today and purchased items for the next week or so - I have been experimenting with menu planning and have had about 70% success...for example, I had this week all planned out:
Monday
Layered Fiesta Bowls
Rice


Tomato/Avocado Salad
Tuesday
Crock Pot Lemon Chicken
Veggie
Salad
Wednesday
Ham and Bean Soup
Tomato Salad
Thursday
Crock Pot Turkey & Sweet Potato Chili
Salad
Friday
Black bean Chicken Grilled
Potatoes
Salad
Yeah well, Monday I was so debilitatingly (is that a word) hungover that cooking was out of the question and I snacked on tabbouleh, chicken, tomatoes, salsa, cheese and a tortilla for dinner. Then last night, we were supposed to do the Layered Fiesta Bowls and my Husband decided to make spaghetti and meatballs with Baby Girl, SO tonight I made the Layered Fiesta Bowls :) I got the recipe from
Ms. Brittany's
website, A Healthy Slice of Life - she has some wonderful recipes, go check them out!! This meal was so delicious, it is easily going into our rotation. So, circumstances change, as do groceries. Turns out, due to the horrific weather spreading across our country, at least I think that is why, groceries were rather expensive this week for me. So, I am switching things up a bit :) The rest of the week will look like this:
Thursday:
Veggie/Salad
Friday:
Turkey Tenderloin
Mashed Potatoes
Spinach
My Commissary has these amazing Shady Brook Farms Turkey
Tenderloins that they run out of fast, luckily enough for me, they had
plenty tonight (note to self- Wed are good Commissary days!) - so, I
will make this for Friday - and nope, mashed taters are not good for you
But, my husband is going to love them, and it's about him, the jerk (j/k)
is abandoning us for training for a long time and I know close to no one
here, February is going to be awful!
Saturday:
Ground Turkey Tortilla Soup
Corn Bread Bite Muffins
Veggie

recipes, her Chicken Tortilla Soup, but Im going to sub out Ground
This week, apparently I am using her recipes, haha, last week it was Skinnytaste's :)
Super excited :)
Ok, and next up I am linking up with
Ms. Shannon
from Life After I Dew for: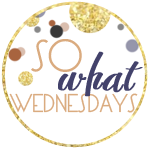 Taking another idea from Ms. Shannon is to focus on positivity instead of negativity, so here goes...
This Wednesday, I am saying so what if I scored poorly on an assignment, my daughter was able to see how important taking pride in your school work is. She came over and stroked my cheek and told me not to worry mommy, so stinking sweet :)

Ok, that's all I have for today :) See you all tomorrow or Friday :)