Hello Everyone, how is your Wednesday treating you so far??? This is a late post, I hope someone out there will read it :) Since it's been some time since I have blogged, especially on a Wednesday, Im going to jump right in :) On this lovely (FREEZING - it's 11 degrees outside) evening, I am linking up with two lovely ladies...the first one I am linking up with is with
Ms. Jenn
from Peas and Crayons for: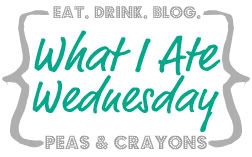 - Well, my friends, my eats have been all over the place this week - by the time I remember to track my Points - PS I switched over to WW a week ago - it's halfway through the day and I throw in the towel at that point - biggest Diet Failure ever, this I know - and I havent worked out once this week yet (it snowed 5 inches yesterday starting at 9), so my goal is next week to post my daily eats like I used to on Wednesday - I have GOT to jump start this thing and quit using my MOVE as an excuse!! I did just make a great choice in snacking and did not reach for the cheese and crackers like I wanted and chose an apple and pb :)
- Ok, anyways - today I made homemade clean applesauce that I will use as a sweet treat when the sweet tooth cravings hit and homemade banana bread that my husband and daughter have told me is fantastic :) The recipe I used for the Banana Bread came from
The Kitchen Runway's
Blog. I liked it because the ingredient list was small and I had all of the ingredients. The only changes I made were that I did not have cinnamon applesauce, so I added in a TBSP of ground cinnamon plus the unsweetened applesauce I always have in my fridge and I had 4 ultra ripe bananas that I used instead of the 3 on the recipe. It turned out amazing and I will experiment with agave syrup in the future instead of sugar. The applesauce recipe is from
Tosca Reno's Clean Eating Recipe Book
. I have made this before bunches and love that there is no added sugar and that my daughter loves shaking up the freezer bag at the end. They are still defrosting in the fridge but I guarantee you that they are delicious :)
My little helper :)
- The second link up that I will be joining this evening is with
Ms. Shannon
from Life After I Dew for: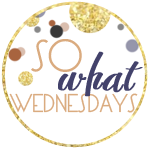 So, upon reading Ms. Shannon's new idea for the direction of this link up, I could not be more excited to join in her journey to focus on the positive, instead of the negative. So, with that being said...here we go...
Today, I am saying SO WHAT?! if:
It snowed 5 inches yesterday:
The top picture was taken yesterday at 1300 and the bottom picture was taken at 0900 this morning - 5 inches later
- So, why am I making this a positive thing? Well, I got to make snow angels with my angel baby, who I adore and have been too busy to just play with since the movers came :(
And, I was able to hear her laugh with delight when Daddy got home from work and tried to help her make a snowman (Mama is terrible at such construction)
- Plus, I was able to bake with her in the kitchen, and while being home bound (I could have left the house, but this Southern Belle has forgotten how not to be scurred of a little snow, I went to the University of Colorado for gosh sakes!), I was able to get SO much unpacking done!!! I finished the bathrooms and cleaned them, I did 5 loads of laundry and folded the couple of loads I did the other day, I finished our bedroom, for the most part - I still need to organize my jewelry, I put up most of our picture frames, and NOW the only thing really left to be completed is DUN...DUN...DUNNNN...the guest bedroom/office, which to be perfectly honest, is still packed full of boxes that have not even been opened yet...ugh...not interested! But, I need somewhere to do my work...so tomorrow - it's on! I also need to make a trip to Goodwill...Im going to fortify myself with coffee and just get it over with :)
- So, there you have it - I could have bitched and moaned and been lazy all day because it was 10 degrees outside with 5 inches of snow, but nope, I made it work by completing tasks that I had been avoiding and kicking some serious bootie :)
Ok folks, I will be back soon - hopefully with some workout success/diet progress for you!! Im trying not to be too hard on myself - yet know that I need to get this party started :) Ok, goodnight!!