Good Afternoon Everyone, Happy Friday :) How is yours going so far...mine has been ok - I got a great run in this morning, one of those runs that makes you feel amazing and you could go forever, but I had to stop due to time constraints and other business going on :) So, today I am joining the leagues and linking up with
Ms. Darci
from The Good Life Blog for:
1 - Get Your Shit Together in September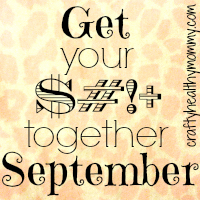 My good girl friend
Ms. Amber
over at Crafty Healthy Mommy is putting together this challenge. Basically, it was created to focus on goals that you have been slacking on lately. So, for this challenge I am focusing on finishing up my half training strong, food prepping consistently, and finally dropping these last few LB's - well at least getting to the 60 pound loss mark...as of this morning it was 152 - I need to get to 148 to have lost 60...I can do that...right??!!??
2 - Diet Bet
To help aid in my #GYSTS challenge, I am joining
Ms. Megan's
September Diet Bet. It starts on the 3rd, I believe, and I cant wait, I have done two of these so far and I am hoping the 3rd one is the charm :)
3 - JD ROBB
I started this book last night, even though this is my first week of school :) Ha - I dont have any assignments due until next week and I needed a good summer read for the end of August
4 - Facebook Pictures
As an overweight woman, I erased all evidence of my weight gain as soon as pictures would show up on FB - I would untag like nobody's business...so last night I was looking at a girlfriend's pictures and came across this gem from my 10 year high school reunion, to say Im mortified is an understatement:
How I ever let go that much, I will never know - all I know is that I am a completely different person now :)
5 - Perky Jerky
When I dont have much of an appetite, but need food - this has been a go-to snack for me lately, it's delicious and the ingredients are minimal :)
Ok, have a great holiday weekend everyone, I have to work on Monday - womp womp :( But, I still hope to have a great one - 8 miler on Sunday - super nervous!!! :)