Good Evening Everyone, how has your Tuesday been? Mine has been good - long but good :) I stayed home today to watch baby girl - who is still getting over her strep throat :( Poor thing! She is so full of energy though, you would never know she was sick if she hadnt told me she had a sore throat...oye! So today I am linking up with my girls,
Ms Megan
from the Memoirs of Megan and
Ms. Heather
at Cookies for Breakfast for:
Today I confess that I:
Ok, so this is horrible, but I compare Amelia to other kids her age and find her to be far more advanced than her peers, and it gives me some sort of sick mommy pride - ugh! What is wrong with me :) I dont want to be one of those "my kid made the honor roll" parents, but I still can enjoy that she is quite smart and social for her age right? I am one proud mama :) Love that chicken - even when she is sick :)
I am also linking up with
Ms. Catalyn
at Confessions of a Northern Belle and
Ms. Lisette
at Northern Belle Diaries for: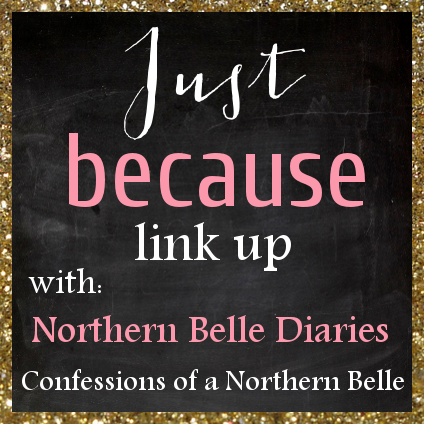 Today I am going to talk about RUNNING - Just Because I am kind of obsessed right now:
So, today I had my longest run to date, and it was outside, and it was while pushing baby girl (35 lbs in a stroller) - to say I felt like a BAMF afterwards is an understatement :)
I went 1.28 miles - and my time and pace stunk but like I said, I was pushing 35 lbs of baby girl - not easy my friends. I also am proud of myself for running outside - I am going to crush that 5K on Saturday :) My goal is to finish under 40 min, in reality I really want to do it in under 35 - but we shall see :) I also did something super fabulous today - I went to my local running store and had my gait analyzed...meaning they look at how you run and then assign you running shoes to help with your gait - I apparently over-pronate, meaning my ankles sort of roll inwards after I put my foot down, so the shoes they gave me help stabilize my ankle and create less of a roll inwards. Turns out Im a Brooks Girl :) #runnerforlife #brooksgirlforlife
Tomorrow is a elliptical day, but Im just not sure I can wait another day to try out these babies - Im so excited I almost want to sleep with them - you know like a new toy on Christmas Day :) (like the little brother did sleeping with his new toy in Christmas Story - ha) We will see if I can hold out ;) Not making any promises ;)
In other news, today I also food prepped - a whole two days late, but better later than never! Here is a pic of the end result:
The pic on top is of homemade apple sauce, I will let you know how that turned out :)
With baby girl being sick on Monday and knowing I was taking today off - I stayed at work last night until 8 - so cooking and prepping last night was out of the question...good thing I had some leftovers from last week :) This week I did it a little different, Im sort of proteined out - I wanted some more fresh varieties of veggies so I made:
- Baked Chicken that had been marinated in Mrs. Dash sodium-free Garlic Lime marinade - so good :) - we are trying to cut back on sodium in this fam
- Pumpkin Protein Pancakes
- Applesauce Pumpkin Breakfast Muffins
- Chopped up Carrots and Celery
- HB Eggs
- Greek Pasta Salad
- Pasta Primavera Salad
- Turkey Meatballs
This was a bit different than the path I had been taking, and I think Im in love - I found the pancake recipe online but everything else I got from Tosca Reno's Eat Clean cookbook. If you all want any of the recipes let me know - I just spent 2/3 hours imputing it all into My Fitness Pal - jeesh...happy that's over with :) And with not knowing what anything counted, I only went over like 20 calories for the day - woot woot - some of it is higher in calories, but for the most part it's really good :) I am sort of obsessed with the muffins - they are the best ones Ive made yet :)
Ok folks, I have to get up seriously early :) Good Night!