Good Evening Everyone- sorry for the late post...again...man I need to get my shit together :) Hopefully someone out there is still reading this thing - my day was super busy - we had to get up super early to get to work early and then left work to take Amelia to a Dr's appointment and had her with me for the rest of the day so blogging was not in the cards :) Anywho, tonight I am linking up with two lovely link ups and then I will be answering my Liebster Award questions.
First I am linking up with
Ms. Taylor from Pink Heels Pink Truck
and
Ms. Lesley
from By the Porchlight for:
The questions for this session of Literary Junkies are:
1. What are you reading right now? Tell us about it.
2. Give us the recipe for a great book.
3. Tell us things you've learned from a book recently. Did you learn anything about history? Did you take away a deep & profound realization about the world around you? Or maybe even a beauty tip?
4. What was your favorite book as a child?
1 - I am reading this book right now:
I am in my first semester for grad school - I am getting my MA in history and this is the book for one of my classes this week :) I am actually excited to read this one!
2 - The recipe to a good book is that there needs to be a strong plot, strong characters and it needs to keep me interested. I especially enjoy strong female leads.
3 - I have been doing a whole bunch of learning lately - so far I have read 12 books in the past 6 weeks - grad school is kicking my butt...my America Interpreted class is really interesting - it is describing the fields of thought for historians that have written about the past 200 years in American history - I am learning something new every week and loving it.
4 - My favorite book growing up was this book:
I love this book - I remember always looking for it in the library when I was in elementary school...I havent seen the movie - I dont want to ruin my childhood memory - silly I know :)
Alright, next I am linking up with
Ms. Megan
The Memoirs of Megan and
Ms. Heather
from Cookies for Breakfast for: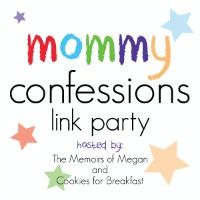 Today I am confessing that my Baby Girl about broke my heart this morning. She did not want to go to school and was crying as we drove there. Normally, she is very excited to see her friends but Mondays are especially hard, and Tuesdays after three days home with mommy? Forget about it. I am normally ok with the mommy guilt - she has been going regularly to daycare since she was about 10 months old. I have to work, I do not choose to work. I wont get on my soapbox, BUT, I truly believe her intelligence has been enhanced from having a curriculum at such a young age...but anyways, I felt really bad this morning and may or may not have shed a few tears on my way to work which may or may not have been enhance by the impending appearance of Aunt Flo. I wish I could stay home with my baby, but then I know that in order for me to be the best mommy and the best contributor to our family - I have to work, I enjoy to work and I need to remember that it makes me a better mom...sometimes is just sucks big fat balls though :/
Ok, enough of that complaining - three ladies have recently nominated me for Liebster awards. I wrote my Liebster Award post back in December and you can find it
HERE
I will answer the questions that the lovely ladies asked me though :)
First up is
Ms. Katie
from Katie J Weighing In, she asked:
Why did you start blogging?

What is your dream vacation?

If you won a million dollars, what is the first thing you'd buy?

What is your favorite meal?

What is the most adventurous thing you've ever done?

Who was the first artist/band you ever saw live in concert?

If you had to pick a trainer would you pick Bob Harper or Jillian Michaels and why?

What is your favorite clothing store?

Do you like Broadway musicals, and if so which is your favorite?

Who inspires you the most?

Do you have a favorite quote, and if so what is it?
1 - I started blogging to be held accountable for losing weight. If I was putting it out there - I couldnt and cant fail.
2 - My dream vacation is to go through a tour of Europe with unlimited expenses.
3 - I would buy a brand new Honda Odyssey - yes, I want to drive a minivan and will one day :)
4 - Spanish Tapas.
5 - I followed Phish on their original farewell tour back in 2004 and went to Coventry in VT - ahh the hippy dippy days of my past :)
6 - The first band I ever saw was Three Dog Night with my family at an Octoberfest in Chicago.
7 - I would pick Bob - Jillian is way too much of a bitch for me
8 - Free People - I wish I could buy everything!
9 - I do and my fave is Les Mis
10 - The significant other that sends their loved ones to war...these are the people that inspire me...it is incredibly hard (I know) to trust your love enough and trust they will come home to you.
11 - "He who forgets will be destined to remember" - Pearl Jam
Next up is
Ms. Ashlee
from Iseminger Chronicles:
1. What was the happiest moment of your life?
2. What are your hobbies?
3. What is your dream job?
4.What is one of your guilty pleasures?
5. What is your favorite feature?
6. If you could change one thing about yourself what would it be?
7. If you knew you had 24 hours to live, what would you do?
8. Why did you start blogging?
9. What is one thing you could not live without?
10. What is your favorite song?
11. What is the worse thing you have ever eaten?
1 - The release of bringing my daughter into the world - best moment of my life :)
2 - I love to read
3 - Dream job would be professional reader
4 - Playing Angry Birds when I should be doing school work
5 - I have nice legs
6 - Get rid of this gut
7 - Spend time with loved ones
8 - To be held accountable for losing weight
9 - My family
10 - Wow, this is tough - the "Dont you want to stay here a little while..." song - I dont know who sings it and I could google but I am wayyy too tired for that right now
11 - Gizzards - gross me out.
And finally
Ms. Meagan
from Healthy Skinny Bitch:
1. If you could change one moment in life, what would it be?
2. What is your favorite way to relax?
3. If you had to paint everything in your life one color, what color would it be?
4. What is your dream car?
5. If you could be famous for any reason, superficial or not, what would it be?
6. If you had to live in the city/town of any TV show, which would it be?
7. What song on your iTunes has the highest play count?
8. If you could change one thing that's happened in the past, what would it be?
9. Do you prefer the city or country?
10. What's your biggest pet peeve?
11. If you didn't have to work for an entire year, and money wasn't a factor, what would you do with your life?
1 - Not wasting my twenties on the complete loser I was with before I met my amazing husband
2 - Reading a good book on a patio - in a hammock, with a cocktail, and a babysitter :)
3 - PURPLE :) pale lavender to be exact
4 - Honda Odyssey
5 - My excellent writing skills :)
6 - Definitely not the Walking Dead, ha - New York City from Sex and the City with lots of money and an awesome job and wardrobe :)
7 - I dont really listen to my iTunes - I love the radio - Songza!
8 - I wouldnt have cheated on my high school boyfriend.
9 - City girl right here
10 - People that back into car parking spaces
11 - Sail around the world with my family.
OK, are you still with me? Probably not :) Have a great rest of your evening and I will be back tomorrow for another marathon linky post :)