Hello bloggers - how is your Friday going - mine has been fantastic except for the slight headache from too much wine :/ Today something amazing happened...I saw the lowest weight I have seen god in forever...I am officially out of the 1x0's which is soooo fantastic - Ill share my real weight when I reach 30 pounds lost. I have officially lost 19 pounds - woot woot - 11 of those on WW - I reached my first WW goal - the 5% one and my points went down a number...feels really good :) I know I have way more weight to lose but this first milestone for me feels fan-freakin-tastic :) Im sure the low weigh-in this morning had something to do with being dehydrated from drinking wine last night but I dont care - it's the kick in the ass I needed - imagine what I can do next week with counting points AND working out? Im dying to find out :) Speaking of last night - I spend the majority of the evening writing a paper - made my hubby wait until I was finished before he started grilling...it really was just bad timing on my part - my paper took longer than I expected and by the time I was finished and we had eaten our steaks the hubs was ready for sleep...so I got to watch What Not to Wear but my Vday felt sort of womp womp but it wasnt even the real day we are celebrating so Sunday should go better - no school work and I can completely devote myself to my husband ;) He did give me some beautiful flowers:
And before we came home from work, we went over to Amelia's school for their "Friendship Day" party - so lame, why cant they just call it Valentine's Day - way to confuse my 3 year old!
So, today I am linking up with
Ms. Holly
from Where We Can Live Like Jack and Sally for: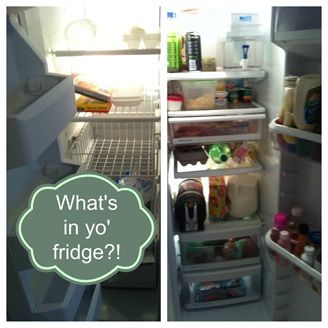 This is my pathetic little fridge:
- We live on an Army Post and this is the Fridge we got...womp womp
- I need to go grocery shopping but we are leaving for a day trip tomorrow and Im waiting until Sunday...so dont judge me :)
- Yes, that is a full glass of white wine on the top shelf - I decided I did not need it...I applaud my good choices and yes that is the box of wine on the bottom shelf - Bota Box is the bomb.com y'all - Soo good :)
- Milk, juice, eggs, bread, cheese, worcheshire sauce, salsa, ketchup...these are the must haves - everything else is bought on a weekly basis - I have ground turkey in the door defrosting...hmm...burgers tonight maybe?
- My freezer is usually even fuller than this - I like to buy bulk meat (chicken and ground turkey/beef) and Amelia loves pancakes in the mornings, I also like to have frozen veggies on hand in case I dont have a chance to grocery shop - like today :)
Ok folks, that is all - here are some pics I took this morning:
Stink bomb 3000 coloring on our "Menu/To do list board"
Pretending she is asleep :)
Love her so much!
OK I will see you all on Monday - Have a great weekend!