Good Morning Everyone :) How is your Thursday going? One more day one more day one more day :) I think we all have that mantra going :) So, today I dont feel like complete death, which is nice - so I made it to work. Last night was a complete shit storm, when upon almost getting ready to start writing a paper I thought was due at midnight WEDNESDAY night, realized that the actual paper and book I had been reading all day, was due on Thursday and the book/paper due Wednesday - yeah well I hadnt even scratched the surface on the book - and this lovely realization happened at 10:30 PM - to say I was freaking out, well I am happy my family was asleep - otherwise I would have turned into "mean mommy" and "mean wife" - but crisis was averted, I finished the paper and I think I actually did really well - haha - there is nothing like writing papers under pressure, some of my best work is done in those conditions - strange but true :)
So today I am linking up with
Ms. Katie
at Katie J Weighing In for: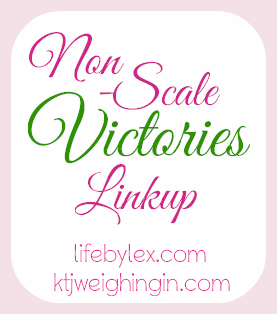 My NSV this week happened actually last Friday. We were on the road on our way to my husband's first rugby game venue and baby girl and I needed to eat dinner. So, I got a grilled chicken sandwich from McDonald's with fries. This is the first fast food I had had in over a month. While I ate the fries (fat-girl problem #1 - I love some salty fries) I did not finish my sandwich and gave it to the husband, I was full. Even he said, "wow this is a new Taylor!" so, that made me feel great! Horrible heartburn did not, and I have no desire to eat any more fast food :) Woot Woot!
The next portion of this blog is what I am calling:
So, last week I skipped my Thursday post and thus skipped my Book on Tape Thursdays blog, but it turned out for the best because I was still reading/listening to the same book. For a recap: I was listening to:
You can find the description from www.goodreads.com
HERE
All I have to say is, oh my god - this was the most depressing books but fabulous books I have ever read. Imagine this, (SPOILER ALERT) you're 18 years old, in love for the first time for a boy who is twin sisters with your best friend. You drink and drive one night, killing your best friend and go to prison for 6 years only to have your lover's baby in the prison, then get out with no family, money or a job...then try to figure it all out. I cried like a baby - Im sure people thought I was losing it if they saw me. The book was wonderfully written but really sad. I recommend it if you are in the mood for a good cry :)
Next on the docket, I have this book:
The www.goodreads.com description says:
From the New York Times bestselling author of On Mystic Lake comes a powerful novel of love, loss, and the magic of friendship. . . .
In the turbulent summer of 1974, Kate Mularkey has accepted her place at the bottom of the eighth-grade social food chain. Then, to her amazement, the "coolest girl in the world" moves in across the street and wants to be her friend. Tully Hart seems to have it all---beauty, brains, ambition. On the surface they are as opposite as two people can be: Kate, doomed to be forever uncool, with a loving family who mortifies her at every turn. Tully, steeped in glamour and mystery, but with a secret that is destroying her. They make a pact to be best friends forever; by summer's end they've become TullyandKate. Inseparable.
So begins Kristin Hannah's magnificent new novel. Spanning more than three decades and playing out across the ever-changing face of the Pacific Northwest, Firefly Lane is the poignant, powerful story of two women and the friendship that becomes the bulkhead of their lives.
From the beginning, Tully is desperate to prove her worth to the world. Abandoned by her mother at an early age, she longs to be loved unconditionally. In the glittering, big-hair era of the eighties, she looks to men to fill the void in her soul. But in the buttoned-down nineties, it is television news that captivates her. She will follow her own blind ambition to New York and around the globe, finding fame and success . . . and loneliness.
Kate knows early on that her life will be nothing special. Throughout college, she pretends to be driven by a need for success, but all she really wants is to fall in love and have children and live an ordinary life. In her own quiet way, Kate is as driven as Tully. What she doesn't know is how being a wife and mother will change her . . . how she'll lose sight of who she once was, and what she once wanted. And how much she'll envy her famous best friend. . . .
For thirty years, Tully and Kate buoy each other through life, weathering the storms of friendship---jealousy, anger, hurt, resentment. They think they've survived it all until a single act of betrayal tears them apart . . . and puts their courage and friendship to the ultimate test.
Firefly Lane is for anyone who ever drank Boone's Farm apple wine while listening to Abba or Fleetwood Mac. More than a coming-of-age novel, it's the story of a generation of women who were both blessed and cursed by choices. It's about promises and secrets and betrayals. And ultimately, about the one person who really, truly knows you---and knows what has the power to hurt you . . . and heal you. Firefly Lane is a story you'll never forget . . . one you'll want to pass on to your best friend.
I am so excited to get into this one - Obviously I am having a love affair with this author right now :) I just hope it is not as depressing as the last one - geez - ok stay tuned until next week and I will give you my review :)
Ok folks, I will see you tomorrow - tomorrow is FRIDAY :) Woo hoo!