Good Afternoon Everyone :) This is going to be short because I feel like death and I must get some work done if Im going to take tomorrow off :) Today I am doing two link ups:
#1 are my girls Ms.
Megan
at Memoirs of Megan and Ms.
Heather
at Cookies for Breakfast for: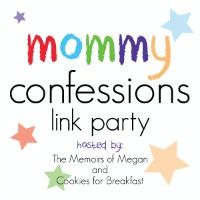 Today I confess that:
This past weekend, when we were staying in our hotel room - I slept with A and not my husband...one - I thought that she would fall asleep better (as any mom with a 3 year old will contest - hotel rooms and 3 year olds dont mix...)and 2 - I really enjoy sleeping with her. Now, I knew that this would backfire...and man has it - last night as well as the night before Baby Girl has been trying to sleep with Mommy at 3:19 in the morning, and even threw a full on fit last night when I wouldnt go snuggle/watch tv with her at 3 o'clock in the AM :( I knew I would pay the price, but man, I wish she would stay in her own bed!
My second link up is with Ms.
Amanda
at My Very Own Modern Family for:
Where we discuss how we came up with the names for our children/pets fish :)
I came up with my daughter's name Amelia. My husband named her middle name James after his Dad and my maternal Grandfather. I had been searching for a feminine, yet classic name for my daughter and I kept saying to everyone, "I want something feminine and classic, like Amelia" and then one day the light bulb went off and I thought, well why not Amelia :) I love her name and I think it's perfect for her. Some of the top contenders were Lorelei and Layla - but turns out my ex-best friend's daughter is named Layla (spelled differently) so it's a good thing we stuck it out with Amelia :) Lorelei is beautiful and Irish sounding (the hubs is half Irish) but it would always remind me of the Gilmore Girls...so Amelia it is :) Now onto our pet fish, Amelia named him Puzzle :) She is obsessed with puzzles :)
Alright folks, that's it :) See you tomorrow!