Good afternoon everyone - Happy Friday!! Sorry I didnt blog last night but man, I had two papers to write and after I was finished, my brain was fried :) One 4 pager and one 10 pager...yikes! Thank goodness my writing skills have made a grand reappearance and I actually enjoy writing these papers - crazy I know :)
So, today I am doing a day late link up with
Ms. Katie
and
Ms. Lex
for: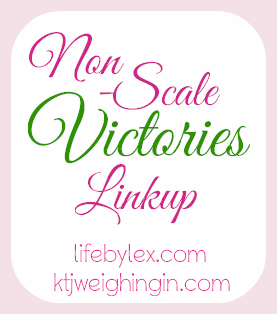 I love love love this link up - sometimes it is best to not focus so much on the scale - I know for myself, this week it would have saved me a lot of headache if I had just weighed myself on my normal scheduled weigh-in - Friday Mornings...lesson learned :)
- I kept going with my work out - Day 2 Week 2 Couch to 5K - on Wednesday. It hurt, I wanted to give up - there was a beast next to me running for the whole time I was stopping/going...but I kept going. This may sound corny but during my last 1.5 minute jog - this song came on:
Calvin Harris - Let's Go - and these lyrics:
Let's go!
Make no excuses now
I'm talking here and now
I'm talking here and now
Let's go!
Your time is running out
Let's go!
I'm talking here and now
I'm talking here and now
Came on - this really kept me going, no more excuses - Ive made like a kajillion - the time is now!
My second NSV was last night when my daughter started imitating my step work out - so cute - made me realize that she needs to see me doing my weight work out more often, so next week - running plus weights!
My second link up is with
Ms. Allie
and
Ms. Brin
for:
So this week my Pit has been:
Not getting enough sleep. I know that I need more -but I am having a hard time sleeping...stupid sleep :/
My Peak has been -
Today folks, I weighed myself and I LOST 3 POUNDS THIS WEEK :) For a total of 16 lbs :) So happy!
We are also going away this weekend for my husband's first rugby game - woot woot - please God dont let him brake any bones...and I got my nails done in honor of his team color:
I feel like a highschool girl again - ha :)
And I will leave you with two pictures of the girl - just because she is super awesome :)
It is 22 degrees outside and last night it snowed/iced. So this morning I was defrosting my car and the sweet girl says - Mommy, look at all the frosting on your car - how stinkin cute is that? Love her!
Ok, I will be back on Monday - we are headed out of town :) Have a good weekend!