Good Afternoon Everyone, how is your lovely Tuesday going? I'm feeling a bit discouraged because only 5 people read my post from yesterday? What am I doing wrong :( All I can think to do is keep trucking along...so, today I am joining two link ups -
#1 is
Ms. Helene
from Helene in Between and
Ms. Emily
from Newlywed Moments for: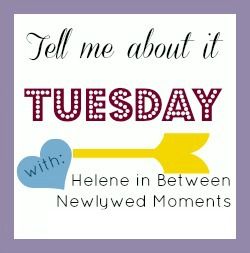 Today's version of Tell Me About It Tuesday is going to be about exercising - exciting I know ;)
I was reading my normal blogs this morning and came across a ton of discouragement in the realm of exercising - and I am feeling it as well - do you think it's because the newness of the new year has worn off and resolutions are taking a back seat to life? Who knows - but I like Ms. Ms. Noel's idea to reexamine my resolutions in regards to fitness/health:
Run the Couch to 5K - so far so good, although I am repeating week 2 because last week I was only able to get in one training sesh - the old fatty in me would have given up but nope - I am finding a solution to the problem and I did Week 2 Exercise 1 last night and rocked it :)
Sign up for a 5K race by Feb 1 - totally found the one I'm running but haven't bought my bib yet - soon though :)
Follow WW every day - meh, I'm doing OK with this - I forget to do dinner a lot though, so I need to work harder!
So, all in all I think I'm doing a great job - the stupid scale is still stuck but I'm running so it should move soon! I was thinking about the last time I turned into a runner - I got down to a size 6 and then did something stupid - I psyched myself out - part of this was because I got a head of myself and bought size 2 jeans and had a girlfriend at the time (she wasn't being rude, just careless) tell me - what do you think you're doing? you will never be a size 2 - grr - after that I fell off the wagon and here we are...so another tiny goal of mine is to buy another pair of these jeans - in a size 6 or smaller :) they are the best jeans and I don't know about you all - I don't want to buy a pair of fat girl jeans in my favorite brand - so I haven't worn this brand in a few years, but this year - I will buy and rock them:
They are Gap's Long and Lean and you can find them
HERE
# 2 is my usual ladies: Ms.
Megan
from the Memoirs of Megan and Ms.
Heather
from Cookies for Breakfast for:
Today I am confessing that I am not a very good Mommy when I am doing school work. I cannot multitask being a perfect mom and a perfect student at the same time. When Mommy is writing her paper, baby girl is not in the forefront of my mind...and I feel so guilty about it - but I am doing grad school to make her life better...but I still feel guilty that I cannot give her a hundred percent of my attention, especially when she has been in school all day :( I know it will get easier as everyone gets used to this new "student mommy" but for right now, I still feel so bad :( For now, we try to solve the problem by letting her "study" next to me:
She seems to enjoy that :) Man, it's tough though.
OK folks, I will see you tomorrow :)