Good Afternoon everyone - how is your Thursday going? Mine is ok - I am cracked out from having to turn in a paper last night by midnight and having to turn another one in tonight at midnight (over a book I havent read yet -yeah Im stressed!) But, I signed up for this, I can do it!! Anywho, today is Thursday so I am doing my own little weekly blurb called:
This week I am listening to another Kristin Hannah book called:
For eighteen years, Jude Farraday has put her children's needs above her own, and it shows—her twins, Mia and Zach—are bright and happy teenagers. When Lexi Baill moves into their small, close knit community, no one is more welcoming than Jude. Lexi, a former foster child with a dark past, quickly becomes Mia's best friend. Then Zach falls in love with Lexi and the three become inseparable.
Jude does everything to keep her kids safe and on track for college. It has always been easy-- until senior year of high school. Suddenly she is at a loss. Nothing feels safe anymore; every time her kids leave the house, she worries about them.
On a hot summer's night her worst fears come true. One decision will change the course of their lives. In the blink of an eye, the Farraday family will be torn apart and Lexi will lose everything. In the years that follow, each must face the consequences of that single night and find a way to forget…or the courage to forgive.
NIGHT ROAD is vivid, emotionally complex novel that raises profound questions about motherhood, identity, love, and forgiveness. It is a luminous, heartbreaking novel that captures both the exquisite pain of loss and the stunning power of hope. This is Kristin Hannah at her very best, telling an unforgettable story about the longing for family, the resilience of the human heart, and the courage it takes to forgive the people we love.
So far, I am loving it - she is a wonderful author who makes you care about her characters. Currently, something big is about to happen and I almost dont want to listen - weird I know. But, I will listen and love it :) Come back next week to find out what I am listening to :)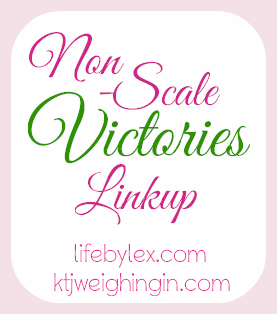 Today I am sharing my Non-Scale Victory that happened last night. So, I was driving home from Walmart with my daughter. She is 3 years old and just about the best thing I have ever done :) Anyways, we were getting ready to drive through the gate when she asked me if I was wearing jammies. I told her no, I was wearing my work out clothes - I had just completed Day 1, Week 2 of the Couch to 5K (woot woot!) and was still wearing my work out clothes. I told her I had been exercising. She said why mommy, why are you exercising. I told her it was to be a healthy mommy. She said, I want to be healthy too mommy - and then pointing to her head, she said I want to be healthy all the way up to here. I said good baby girl - we are going running again this weekend :) This little conversation was the best thing ever - really confirmed my mission of leading by example a healthy lifestyle for my child. She is so influenced by everything I do - her favorite color is purple too :) By showing her that working out is good and eating healthy is good - I am giving her the foundation for a better future :) Go me.
Ok, that's it folks - Thank you for the kind words yesterday, some of you do not have your emails linked up to your profiles, so I couldnt email you back - but thank you for your encouragement, I will keep this thing going :) See you tomorrow :)